Hosting Newcastle at the Etihad Stadium on Wednesday evening, if you'd have asked someone to fill in the blank of 'Manchester City have the most [?] this season', most people would probably quip something along the lines of 'goals' or 'chances created'. Y'know, something good.
Many probably wouldn't have known that City have now made more changes to their starting lineup than any other side in the Premier League this season. 125, to be precise. Which is, like, loads.
Despite all the criticisms that have been directed City's way this season, they're still - on their day - a fabulous footballing side. Yet, there is no escaping that they've struggled for consistency this term, suffering five more losses than they did in the entirety of their previous title-winning season (4).
Does it feel somewhat poorly timed to aim blame towards City when they've just waltzed to victory over Newcastle? Probably, but the distance between themselves and Liverpool can't be overlooked, and Pep Guardiola certainly can't be exempt from condemnation.
Claudio Ranieri was referred to as the 'Tinker Man' during his Chelsea days, but Guardiola has taken over that mantle this season with the sheer volume of alterations he makes each and every week.
Fantasy Football fans already know this - Sergio Aguero cough cough - but constant chopping and changing is not always beneficial to continuity, as we've seen on a number of occasions this term.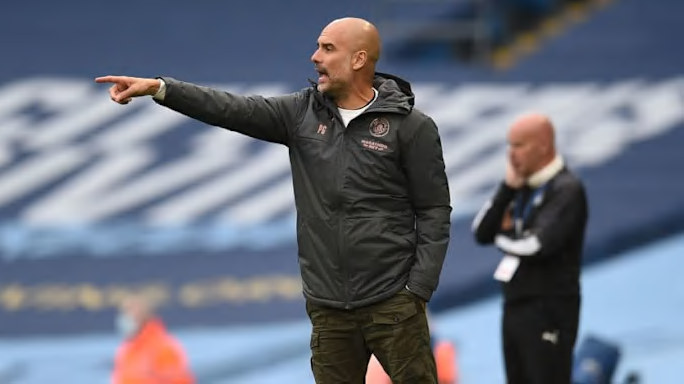 Before the obvious...yes, Guardiola rang the changes for the Newcastle game and they won. Comfortably. But the nine defeats and three draws before kick off are not of the standard required and the selection decisions must be questioned. Not winning three in a row all season? That's not how you win a title.
125? In 34 matches? That's roughly 3.7 per game.
There is no doubting that City have a multi-talented squad with depth in (almost) every position, so managing those individuals and getting them adequate game time mustn't be easy. They play a lot of games. The squad needs freshening up.
And, given how good their squad is, Guardiola can afford it.
10+ - Manchester City are the first English top-flight side to have five different players score at least 10 league goals in a single season since Everton in 1984-85. Apportion. pic.twitter.com/Y6XzpL2bTS

— OptaJoe (@OptaJoe) July 8, 2020
But does it ask other questions about the faith he has in certain players that a regular run in the side is so hard to come by unless you're Ederson or Kevin De Bruyne. Defensively, there a distinct concerns regarding a number of the players, but when the left-back and central defence partnership changes each week, it stunts consistency and affects performances.
Ok, we don't know that for sure, but there could be a credible link between the two. And, at this point, an inquiry must be made from top to bottom at City to garner some explanation as to why they've been so far off to the pace to Liverpool, and indeed their own performances of last season.
For games like Newcastle it's to be expected, though. Since the Premier League restart games have come thick and fast. The Magpies have nothing left to play for this season and the quality within the City ranks should be more than enough to seal victory.
But it comes back to the supposed over-thinking that Guardiola has been criticised of in the past. Normally that's in the big games, the Champions League games, but it filters through to weekly top flight encounters too.
Heck, the team haven't done enough this season and they will shoulder the brunt of the responsibility, but nobody can get off scot-free.
---
For more from Ross Kennerley, follow him on Twitter!
Source :
90min